Please remember to scroll down to see the pictures below.
Hi, I'm Bert. This Auto Mag website will be a fun and educational place for all. I've been working hard, lo these many past years, on a monumental book about Harry Sanford and his guns. When indicated, your help will be very much appreciated. Enjoy!
Hear Ye. Hear Ye.
Okay everybody, you all now have the opportunity to purchase a DVD of a maven disassembling and then reassembling an Auto Mag with full audio commentary. This shows a complete takedown and all of the tips and tricks involved. This video is a valuable resource for repairing or replacing parts, or just gaining a deeper understanding of this classic firearm. Total cost to you including shipping and handling to a domestic address is $46!
I'll ship abroad, but naturally international shipping will be a bit more expensive. Please pay with a bank cashier's check, postal money order, or cash. No personal checks please.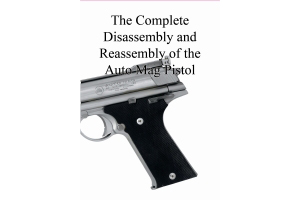 It gives me great pleasure to reintroduce Chapter 1 of my total book of Auto Mag.
Let me first thank the many folks who have already purchased Chapter 1 in both sizes: 8 1/2 X 11 and 11 X 17.
The feedback has been more than encouraging. Most if not all seemed to enjoy my endeavor and they are looking forward to the new releases of Chapter 2 and 3.
Chapter 1 deals with the earliest history of the Auto Mag and it contains photos and documents that go back to the original XPs produced by Max Gera.
The Chapter 1 book starts out with a 3D print of a couple of Auto Mags and the 1900 Mars pistol on the cover. The title, hand calligraphied in gold ink, reads: "The Life and Death of Auto Mag Harry W. Sanford's Bold Adventure".
The historical narrative begins with a full page color photograph of a most beautifully engraved Auto Mag.
It goes on to give the reader a fairly comprehensive look at the experimental prototypes and the XPs that ultimately led to its production in Pasadena. There are layers upon layers of historical occurrences and many documents to authenticate the photographs included. This Chapter took approximately 12 years to complete. Chapter 2 would have taken only 3 years to complete.
The cost of Chapter 1 for the 8 1/2 X 11 is $350 and the 11 X17 is $615 plus shipping and handling U. S. Post Office Priority Mail.
Each book is produced as needed from the finest archival double sided photo paper. The inkjet color copies are exquisite. The front and back covers are from thick matte board and the bindings are of the spiral type. You need to see and hold it to appreciate the complexity of the completed package.
Now let's talk about Chapter 2! It is finished and ready for sale. The same format will be used, but since there was so much more material available, photographs and documents, Chapter 2 will be presented in 2 parts, A and B. They will be sold separately or together for a bit of a price break!
The single copy of the 8 1/2 X 11 is $350 including shipping and handling for the U.S. for part A or B. The 11 X 17 is $615 including shipping and handling for the U.S.
The cost as a pair, the whole Chapter including parts A and B is: $650 for the 8 1/2 X 11 size and $1125 including shipping and handling for the 11 X 17 size. Shipping is through USPS Priority Mail
The cover page of part A again will be of matte board and hand done gold calligraphy with a collage of all of the Auto Mag advertisements done by the corporation.
Chapter 2 part Bs cover will show a collage of all of the magazine covers that show a photograph of an Auto Mag pistol. After that, you will be informed by photographs and documents that encompass the production at Pasadena and North Hollywood. My writing style is easy to understand. Any important parts of the guns, etc. will be annotated and explained. Chapter 2 will contain photographs of the Auto Mag pistols that were made at the Pasadena factory and Bob Barbasiewicz's garage, then just into the new factory at El Monte, California with the last of the North Hollywood production.
Expect to see factory engraved Auto Mags, the rare .45ACP Auto Mags and their brief history. Also look for the ammunition section where I deal with the many varied ammunition and die sets.
Chapter 2 also contains bonus content. On the back cover of Part B are two DVDs. One is the Dissasembly DVD that is mentioned above, the other is filled with scans of the original serial number run ledgers, the full ballistic and testing report, and a full run of the Jurras newsletter.
Any interested gun aficionados who collect gun books, any Auto Mag collectors or history buffs should surely fall in love with these historical chapters!
Chapter 3 will deal with all things produced at El Monte, both pistols and barrels. Jurras did a great deal of work during this era. He ran the fix it shop for Auto Mag plus was its worldwide distributor.
Along with that he owned and sold "Super Vel" ammunition. He produced Super Vel .44 AMP and .357AMP also Lee E. Jurras .44 AMP and .357AMP. All of the ammunition and more will show up in Chapter 3. Jurras also produced his own specialty line of Auto Mags which will also appear. Lomont was also a prolific producer of Auto Mag barrels, mostly in octagon cross section. Many lengths and calibers will also be shown. Lots of aftermarket items will also appear such as Lomont's holsters and his proprietary ammunition. Imported plastic Auto Mags will also show up. A wonderful potpourri of Auto Mag "stuff" awaits you with the production of Chapter 3!
Please make your desire known to me on my email at bert@automagheaven.com!
Well you Auto Mag Buckaroos out there, here's a riddle to figure out. Here's three shots of a very unknown Lomont barrel. Can any one of y'all identify this beauty? There were only two of them made by Kent. I know where both of them are! You'll have to wait for Chapter 3 to find out about it! Have fun and as usual, I remain your undying servant.
Humbly,
Please click here to comment in the Guestbook.
For last month's site click here.