Please remember to scroll down to see the pictures below.
Hi, I'm Bert. This Auto Mag website will be a fun and educational place for all. I've been working hard, lo these many past years, on a monumental book about Harry Sanford and his guns. When indicated, your help will be very much appreciated. Enjoy!
Max Gera writes up a chronology of the Auto Mag X. More to come.
Patrick Henry III
I met Patrick Henry III in the first week of September 2015. He had just purchased the last remaining batch of parts and tooling for the Auto Mag from Walter Sanford.
After our first meeting, we came to a financial agreement in which I allowed him to use my totally redesigned upper assembly for the Auto Mag X, of which I had built a working prototype about a year earlier and also the much simplified lower assembly, on which I was working at the time.
A couple of weeks later, we had a meeting at my house with the owner and engineers of Stealth Arms, a machine shop that Patrick Henry III had contracted to produce an initial run of pre-production guns. Everything went smoothly and when they left, I felt confident that they could actually do the job.
Over the next few months, I worked on several exploded view models of the Auto Mag X, as Patrick Henry III called the new gun. I was in regular communication with the shop engineer, Steve Elsass. The production tooling and parts for the initial run were coming along on schedule.
Sometime in December or January, Patrick called me on the phone and told me that "a gunsmith" that he knew, had suggested that we modify the position of the cocking notches on the hammer on the Auto Mag X in such way as to allow the hammer to follow the bolt and not engage the sear until the hammer was about half-way down. By doing this, he claimed, the time of the hammer fall would be greatly reduced and it would greatly improve on the accuracy of the gun.
I explained to him that such modification would make the hammer engage the sear at almost full speed, and very likely, it would damage the sear after only a few rounds and turn the Auto Mag X into an uncontrollable full auto pistol (not recommended on a .44 Mag).
The marginal improvement in the lock time was definitely not worth the unpredictability and lack of safety that it would cause. Patrick Henry III did not bring up this subject again.
I continued to work on several other computer models and tooling, while Stealth Arms was making steady progress and running pretty much on schedule.
Sometime in February or March, during one of our phone conversations, Patrick asked me if I had any ideas for new products related to the Auto Mag. I told him that I was working on a .22 rimfire conversion unit that consisted of a barrel insert, a straight blow-back bolt and a specially designed magazine. I thought this could be a marketable item for Auto Mag owners. We discussed it in length, I sent him a computer model of the barrel insert and he gave me the go-ahead to complete the design after I finished the current work.
Sometime in March I received a call from Steve Elsass, telling me that they couldn't torque the barrel to the receiver to my specs (480 to 520 foot pounds) and asked why did I specified such a high torque. I explained to him that it was the standard torque for a 7/8 – 20 thread according to the ASME torque charts. He responded that they had tried to do it but their torque wrench broke, and showed me the picture of a broken wrench about 18 inches long. I told him to buy the correct size wrench, it is about 5 feet long, and they would have no problem. A few minutes later, Patrick Henry III called me and told me that "the gunsmith" that he knew, claimed that there was no need for such a torque. I responded that I trusted the American Society of Mechanical Engineers more than "the gunsmith" that he knew. I immediately sent him a link to a tooling supply catalog showing the correct size wrench and told him to buy it and have Stealth Arms torque the barrel properly, according to my specs.
Mark LovenFuckingDale All Over Again
I completed the simplification of the lower assembly by eliminating 12 unnecessary parts and modifying the frame so it could be machined from billet. I sent the finished computer models to Patrick Henry III towards the end of March.
In early April I received an email from him titled "Lower Assembly Improvements". The email contained some very crude hand sketches of "improvements" that he wanted me to incorporate in the design:
The first one was to modify the magazine follower to use a quick detachable hold-open pin. This was supposed to make it easier for the owner to remove the follower and magazine spring for cleaning. Other than the fact that it would require a special tool to push the follower all the way down while leaving one hand free to pull the pin, I told him that it probably wouldn't hurt.
The second "improvement" was to replace the trigger torsion spring with a coil spring that was to be contained inside the trigger stop screw. This would have required drilling a hole inside of an 8-32 screw that has a minor diameter of an 1/8 of an inch to contain the spring. For all practical purposes, the spring would have to be no more than 1/16 inch in diameter! This of course, didn't even consider the fact that in the production Auto Mag, the trigger spring and trigger stop rest against the magazine release latch. Just imagine: A loose 1/8 inch long end of a 1/16 inch diameter coil spring pushing against the curved surface of a 5/16 inch diameter rod that moves about an 1/8 of an inch from side to side...
I explained to Patrick Henry III that besides being a bad idea, the new simplified lower assembly used a different type of spring that served both as trigger and trigger bar spring.
Saving the best for last. The third "improvement" consisted of welding the recoil rods to the cocking piece and securing the recoil springs in place with nuts on the front of the recoil rods, essentially moving the threads from the back to the front of the recoil rods. This supposedly would solve the "problem" of the recoil rods loosening occasionally because of the Helicoils.
Anyone with a semblance of a functioning brain can see immediately the pitfalls of this arrangement.
Moving the threads from the front to the back of the rods changes nothing as far the rods becoming loose. The rotating forces of the recoil springs would still act against the bearing surface of the rods and under the right circumstances would still loosen (or tighten the rods).
Damaging a recoil rod would now require you to throw away the entire cocking piece.
Just imagine trying to assemble the recoil springs. You would have to compress the unsupported free end of the spring and then slide the front nut in place and start threading it to the recoil rod before the spring can jump out and go right through your eye!
Finally, the front nuts would necessarily take more space than the fixed head of the current recoil rods reducing the already marginal space available when the bolt is at the end of its travel and the springs are fully compressed.
I tried to explain all this to Patrick Henry III, including the fact that the new upper assembly no longer used the Helicoils and that the "solution" was purely academic.
At this point my patience was wearing thin and I asked him directly, "Who is coming up with all these idiotic ideas?" He finally told me that "the gunsmith" was a Timothy Bell, a friend of his, and that he was a very knowledgeable person and that he wanted me to talk to him and to be nice to him. I told Patrick that I had no intention of wasting my time talking to someone who kept on suggesting idiotic changes, clearly for the sole purpose of being able to say, "That was my idea"!
Testing
Around the middle of April, Stealth Arms started test firing the first prototype that they had completed. It worked very erratically.
Since the beginning of the project we had weekly online meetings through a totally unreliable "GoToMeeting" website. We spent at least 50% of our time trying to get the "meeting" to work as intended. It rarely did. On the first meeting after the test firing, the people from Stealth Arms showed some videos and photos of the test firing. The problem seemed to be mostly magazine feeding related, because they told me that that the bolt locked back on the hold open properly when fired with a single round, indicating that the bolt was cycling correctly.
Lo and behold... This time we had a new member on the online meeting. You guessed it, "the gunsmith" Timothy Bell was there to solve all our problems with his expertise... And of course, all he wanted to do was to talk about his welded recoil rods and easy disassembly magazine follower.
I cut him off and told him that I did not want to hear about his bullshit. We were there to determine why the gun wasn't feeding, not to hear how clever he was.
They did about another week of tests, firing about 500 total rounds without solving the problem. At this point I asked them to send me a complete set of parts so I could examine and assemble and test it myself. Well, they did, sort of... Even though they were making parts for about a dozen upper assemblies, they had only completed enough parts for two. They had fitted, assembled and fired both of them. Fortunately the assembly they sent me was fired only a few times.
Around the middle of May, when I received the assembly, I was very impressed with the finish and workmanship of the parts. I spent a couple of days examining every detail and fit of the new upper. The headspace was correct. I found numerous minor discrepancies, sharp corners, and rough surfaces that needed to be smoothed out for proper functioning (see Kent Lomont's Tuning Tips for the Auto Mag).
The only thing that got my attention was a very visible mark on the inside of the slot for the takedown lever, which acts as the forward stop for the barrel extension. My specs called for the barrel extension to be machined from 4140-PH alloy (28-32 Rockwell C), and once finished, to induction harden a 1 1/2 inch area around the locking lugs to 44-48 Rockwell C.
My first guess was that maybe they had heat-treated too small of an area and didn't quite reach the stop bearing surface. In the next few days or so, we had another online "GoToMeeting". I had a well prepared report of all that I believed needed to be done. When I brought up that the heat-treating of the lug area was not large enough to include the stop face of the barrels extension... Someone on the Stealth Arms group said, "We never heat-treated the barrel extension".
My drawings clearly stated how I wanted the barrel extension heat-treated and I had also discussed it in detail with Steve Elsass.
I couldn't believe that someone could be so stupid as to actually fire over 500 rounds of 40,000 psi ammo in a non-heat treated gun. No one knew who decided that the receiver didn't need to be heat treated. I told them to take their gun apart and examine the locking lugs, and if they were not too badly damaged, to clean them up and have the barrel extension heat treated to my specs. I would do the same thing with the one they had sent me.
The next day I set the barrel assembly on my barrel mounting fixture and clamped my barrel wrench to remove the barrel... Well, I was able to unscrew the barrel by simply turning the wrench with my hand, without the need of my usual 3 foot pipe. I seriously doubt that the barrel had more than 25 foot-pounds of torque.
This time, I went into a rage. I called Patrick Henry III and demanded to know why they refused to follow my instructions and who was the idiot responsible for not heat-treating the barrel extension and not torquing the barrels to my specs? His answer, "I don't know". By now, I had a pretty good idea of who the idiot was...
I had the barrel extension heat-treated by my local shop and reassembled it after setting the barrel back 1 turn to get the proper torque.
The gun worked fine when shooting towards the ground. It would only malfunction when firing horizontally. This was an old problem with the Auto Mag and it even had a name: "Follower Bounce". When firing, the sharp rise of the gun under recoil created a hesitation of the column of ammunition in the magazine, essentially compressing the magazine spring, slowing down the next round's rise into position and causing the bolt to completely skip over it. Over the years, the cure for this problem had always revolved around using heavier and heavier magazine springs, to the point of making the magazine very difficult to load and of course, creating other problems due to the very high friction of the ammunition column against the bottom of the bolt.
Well, I decided to solve the problem once and for all. I designed an "anti-bounce" follower. Basically the follower can only move upwards except when being loaded. This should solve the problem. While I was at it, I also designed a constant force spring for the magazine to make it easy to load. It takes the same pressure to insert each round, regardless of the number of rounds in the magazine.
As soon as I had a satisfactory computer model of the new magazine, I started making a prototype for testing.
Benedict Arnold
Around the first week in June, when I was almost finished with the new magazine, I saw a new post on the TheNewAutoMag.com website, showing the testing of a rather crudely made .22 rimfire conversion for the Auto Mag. In this post, Patrick Henry III proudly announced that it had been designed and made by... you guessed it... Timothy Bell. Not once was it mentioned that it was based on my concept and that he had actually commissioned me to finish it a few months ago.
I found it hard to believe that anyone would be so stupid to think that he could stab me in the back, pretend it didn't happen and that I would let him get away with it. Especially, since I have the ONLY working prototype of the new Auto Mag X in my hands (they kept on firing the other one without ever heat treating it).
I put this entire fiasco online and it didn't take me long to trick Patrick Henry III into admitting in writing that he had indeed given me the go ahead to complete the .22 conversion.
I found this whole chapter so aggravating that I decided to put the entire project on hold for a couple of months and finish some home remodeling that I had started earlier.
I will resume the final testing of the new Auto Mag X in a couple of weeks, and then will start some serious re-negotiating. This time, I am fully aware that this Patrick Henry has a Benedict Arnold alter-ego.
Hi every one, I'm back!
Here's the update of Chapter 3. It's 99% finished being written. Now it needs to be collated into a logical flow, which will be another problem. It seems that during the intervening period of time between Chapters 1 and 2, a great deal of additional information and some exquisite Auto Mags, barrels, and other collectibles have fallen into my lap! So, the first part of Chapter 3 will deal with those things that should have shown up in the previous 2 Chapters!
After that, look for interesting "stuff" from Sanford's factory, the Jurras shop, and Lomont's production facility. I'll even share my toy Auto Mag guns with you. They were a "kick" to collect, mostly from Japan!
Please look forward to the release of Chapter 3 soon.
Now allow me to digress. Max Gera and I have been very good friends since he popped back up on the scene. We have talked about Auto Mag ad nauseam and what incredible fun and enlightening that was for me. The man is uber knowledgeable and is an amazing old world firearms craftsman. Sometime back in October/November of 2015, I asked him about the possibility of him producing a .22 caliber insert for the normal .44 caliber Auto Mag. This question came to me after I had talked with Larry Grossman, I think it was, concerning Bob Barbasiewicz starting to work on such a .22 conversion.
After I discussed the possibility with Gera, he soon came forth with a 3D model of such a conversion. Please see the original email and attached original plans below.
Recently I saw this .22 caliber conversion idea pop onto the AMT Guns forum website without Gera's name mentioned as the creator/inventor.
Up to this point I have looked at the website as a disinterested observer only.
Knowing that Gera transmitted these plans to Mr. Patrick Henry III at a much earlier time, I was amazed and dismayed that no mention of Gera had been made. I very much like Patrick Henry III and have the greatest respect for him for bringing Gera's new top end into, almost, production! I'm sure that he not mentioning Gera as the progenitor of the .22 caliber conversion was just an oversight because of the incredible amount of work and money he continues to do on the "top ends" behalf. I now rest my case and hope Patrick is vindicated!
Feel free to contact me about this or anything else you deem interesting or important. I continue to remain your old and tired servant.
Bert
------------------------------------------
Okay everybody, you all now have the opportunity to purchase a DVD of a maven disassembling and then reassembling an Auto Mag with full audio commentary. This shows a complete takedown and all of the tips and tricks involved. This video is a valuable resource for repairing or replacing parts, or just gaining a deeper understanding of this classic firearm. Total cost to you including shipping and handling to a domestic address is $46!
I'll ship abroad, but naturally international shipping will be a bit more expensive. Please pay with a bank cashier's check, postal money order, or cash. No personal checks please.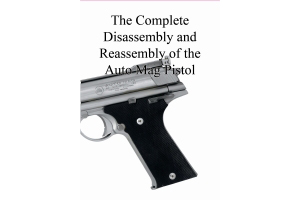 It gives me great pleasure to reintroduce Chapter 1 of my total book of Auto Mag.
Let me first thank the many folks who have already purchased Chapter 1 in both sizes: 8 1/2 X 11 and 11 X 17.
The feedback has been more than encouraging. Most if not all seemed to enjoy my endeavor and they are looking forward to the new releases of Chapter 2 and 3.
Chapter 1 deals with the earliest history of the Auto Mag and it contains photos and documents that go back to the original XPs produced by Max Gera.
The Chapter 1 book starts out with a 3D print of a couple of Auto Mags and the 1900 Mars pistol on the cover. The title, hand calligraphied in gold ink, reads: "The Life and Death of Auto Mag Harry W. Sanford's Bold Adventure".
The historical narrative begins with a full page color photograph of a most beautifully engraved Auto Mag.
It goes on to give the reader a fairly comprehensive look at the experimental prototypes and the XPs that ultimately led to its production in Pasadena. There are layers upon layers of historical occurrences and many documents to authenticate the photographs included. This Chapter took approximately 12 years to complete. Chapter 2 would have taken only 3 years to complete.
The cost of Chapter 1 for the 8 1/2 X 11 is $350 and the 11 X17 is $615 plus shipping and handling U. S. Post Office Priority Mail.
Each book is produced as needed from the finest archival double sided photo paper. The inkjet color copies are exquisite. The front and back covers are from thick matte board and the bindings are of the spiral type. You need to see and hold it to appreciate the complexity of the completed package.
Now let's talk about Chapter 2! It is finished and ready for sale. The same format will be used, but since there was so much more material available, photographs and documents, Chapter 2 will be presented in 2 parts, A and B. They will be sold separately or together for a bit of a price break!
The single copy of the 8 1/2 X 11 is $350 including shipping and handling for the U.S. for part A or B. The 11 X 17 is $615 including shipping and handling for the U.S.
The cost as a pair, the whole Chapter including parts A and B is: $650 for the 8 1/2 X 11 size and $1125 including shipping and handling for the 11 X 17 size. Shipping is through USPS Priority Mail
The cover page of part A again will be of matte board and hand done gold calligraphy with a collage of all of the Auto Mag advertisements done by the corporation.
Chapter 2 part Bs cover will show a collage of all of the magazine covers that show a photograph of an Auto Mag pistol. After that, you will be informed by photographs and documents that encompass the production at Pasadena and North Hollywood. My writing style is easy to understand. Any important parts of the guns, etc. will be annotated and explained. Chapter 2 will contain photographs of the Auto Mag pistols that were made at the Pasadena factory and Bob Barbasiewicz's garage, then just into the new factory at El Monte, California with the last of the North Hollywood production.
Expect to see factory engraved Auto Mags, the rare .45ACP Auto Mags and their brief history. Also look for the ammunition section where I deal with the many varied ammunition and die sets.
Chapter 2 also contains bonus content. On the back cover of Part B are two DVDs. One is the Disassembly DVD that is mentioned above, the other is filled with scans of the original serial number run ledgers, the full ballistic and testing report, and a full run of the Jurras newsletter.
Any interested gun aficionados who collect gun books, any Auto Mag collectors or history buffs should surely fall in love with these historical chapters!
Chapter 3 will deal with all things produced at El Monte, both pistols and barrels. Jurras did a great deal of work during this era. He ran the fix it shop for Auto Mag plus was its worldwide distributor.
Along with that he owned and sold "Super Vel" ammunition. He produced Super Vel .44 AMP and .357AMP also Lee E. Jurras .44 AMP and .357AMP. All of the ammunition and more will show up in Chapter 3. Jurras also produced his own specialty line of Auto Mags which will also appear. Lomont was also a prolific producer of Auto Mag barrels, mostly in octagon cross section. Many lengths and calibers will also be shown. Lots of aftermarket items will also appear such as Lomont's holsters and his proprietary ammunition. Imported plastic Auto Mags will also show up. A wonderful potpourri of Auto Mag "stuff" awaits you with the production of Chapter 3!
Please make your desire known to me on my email at bert@automagheaven.com!
Please click here to comment in the Guestbook.
For last month's site click here.